The Buttcrush Game 2
Date: 10/06/2019 | Category: Butt Crush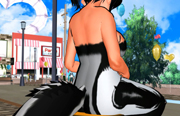 Karmen game continues with new players appearing such as: Sakuya, Blake, Skunk Girl who will try to use different ways to make the tinies cum. The Skunk Girl will sit on the tiny girls and fart on them, Sakuya will do anal vore on the tiny girl, Blake will use the tiny girl as a sex toy and Nia will finally reveal her idea she had on the previously animation to make the tiny girl cum.

The animation is divided in two files: Part A / Part B, 18:06 minutes.

Changelog

April 05th, 2022: Added a male edition, now, you can see the same animation but the tinies are men instead of women.